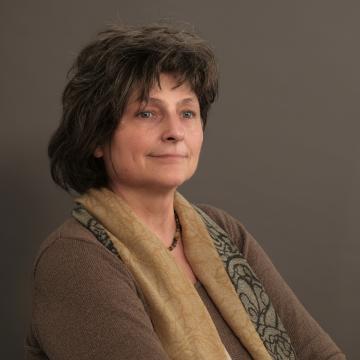 Office hours
Thursday 10:00 - 11:20 and by previous appointment.
Cabinet
R12BI
 PROTI DIKTATURI KRANJSKE KLOBASE!
Department of Asian Studies
Prof. Dr. Jana Rošker
 SLO.
Jana S. Rošker, rojena 21.05.1960,  je prva slovenska sinologinja, soustanoviteljica Oddelka za zaijske študije in njegova dolgoletna predstojnica. Dodiplomski in podiplomski študij sinologije in pedagogike je opravila na Dunaju in ga zaključila z doktoratom leta 1988. V času študija je skupno štiri leta prebila na študijskem izpopolnjevanju v L.R.Kitajski. Tudi po študiju je skoraj vsako leto po več mesecev ali let v LR Kitajski ali na Tajvanu opravljala raziskovalno delo. Njeni raziskovalni interesi vključujejo kitajsko in primerjalno filozofijo, zlasti na področju epistemologije in teorijo metodologije medkulturnih raziskav. Na tem področju je doslej objavila će 15 znanstvenih monografij in preko sto znanstvenih člankov ter poglavij v monografijah oz. zbornikih. Jana S. Rošker je ustanoviteljica, prva predsednica in od 2019 častna članica Evropskega združenja za kitajsko filozofijo (Euroepan Association for Chinese Philosophy), članica Znanstvenga sveta za humanistiko pri ARRS ter glavna urednica znanstvene revije Asian Studies. Za svoje pedagoško in znanstveno delo je prejela vrsto prestižnih priznanj in nagrad, med drugim Veliko nagrado Filozofske fakultete (2008), Nagrado ARRS za izjemni znanstveni dosežek (2013), Zlatko plaketo Univerze v Ljubljani (2015) in državno priznanje Žiga Zoisa za znanstvene dosežke nacionalnega pomena.
ENG.
Jana S. Rošker is the first Slovenian sinologist. She studied Sinology and obtained her PhD degree at the Vienna University in Austria. She is the first Slovene Sinologist, co-founder and long-standing Head of the Department of Asian studies at the University in Ljubljana. Durgin and after her study, she spent althogether over 8 years in the PR China and Taiwan. Her main academic interests include traditional and modern Chinese philosophy and theory of knowledge, methodology of intercultural research, classical Chinese logic, and Modern Confucianism. In these research areas, she has hitherto published fifteen books, and over hundred articles and book chapters. Prof. Rošker is chief editor of the academic journal Asian Studies, member of the Scientific Council for Humanitis at the Slovene National Research Agency, and the founder, first president and since 2019, hohorary member of of the European Association of Chinese Philosophy (EACP). For her didactic and research work, she was awarded with several prestigious awards, as for instance the National Slovene Research Agency prize for extraordinary scientific achievements, the Golden Plague of the University of Ljubljana and the Žiga Zois prize for research work of national significance.
Compulsory Courses
Elective Courses