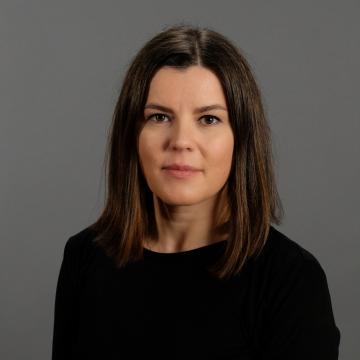 Office hours
Zimski semester: ponedeljek ob 18:15
letni semester: ponedeljek ob 13:00
Predhodna najava je obvezna.


Kabinet 334
Department of Art History
asist. dr. Marjana Dolšina Delač
Marjana Dolšina Delač (1984) studied art history at the Faculty of Arts in Ljubljana and graduated in 2010 with a thesis on depictions of children in medieval visual arts. In 2011 she completed a pedagogical and andragogical education programme at the Faculty of Education in Ljubljana. In 2020 she concluded her PhD at the Department of Art History (Faculty of Arts, Ljubljana) on the Art History Discourse in Slovenia According to Official Curricula under the supervision of Distinguished Professor Nataša Golob.
Since 2008 she has worked at the General Upper Secondary School Kočevje teaching art history and fine arts in various programmes. Currently, she coordinates and teaches an interdisciplinary thematic unit Art for the Young. In 2011 she gained a professional certificate for education and training and became a teacher-mentor in 2012. She participated in various projects on development of didactics, including Bridge (2016–2019), Let's enhance school (2016–2019), ITS (Interdisciplinary unit, 2019–) etc. Since 2010 she has been a member of the Development team for art history at the National Education Institute Slovenia.
In 2016 she was elected to the position of assistant at the Department of Art History, Faculty of Arts, University of Ljubljana for the field of didactics of art history. Since 2016 she has been teaching Didactics of Art History I and II and Educational practicum in Art History (lecturer: Assistant Professor Katja Mahnič).